Earthing Solutions is a Level 1 ASP, certified to undertake low and high voltage underground and overhead electrical works.
As a Level 1 Service Provider we are authorised to perform the following works:
Laying, stringing and jointing electricity cables
Erecting electricity poles and excavating underground cable trenches
Undertaking line work including working with live electricity cables
Building, or working on or inside, electricity substations
Carrying out construction work that may include the use of plant and equipment
Transport for NSW Authorised Engineering Organisation
Earthing Solutions has AEO status for the material procurement, construction and installation
of earthing, bonding, electrolysis and lightning protection for heavy rail network projects.
Quality, Environmental and OHS Compliance
Earthing Solutions is compliant with the full gamut of safety requirements including those contained in regulations, codes of practice, standards and specifications. We are committed to managing risk and implementing continual improvements within the business. At Earthing Solutions, we have meticulous system documentation and we actively deploy our systems in delivering projects.
We are certified to the following standards: [Click on the menu items or images to download PDFs.]
Earthing Solutions has $50 Million Public Liability insurance cover and all relevant vehicle insurance; documents are carried in the company vehicles.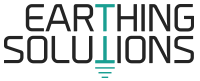 For reliable earthing and lightning protection services, call Earthing Solutions. Call (02) 9608 9844
We take projects from start to finish with a focus on flexibility, project management, technical experience, safety, cost efficiency and compliance.